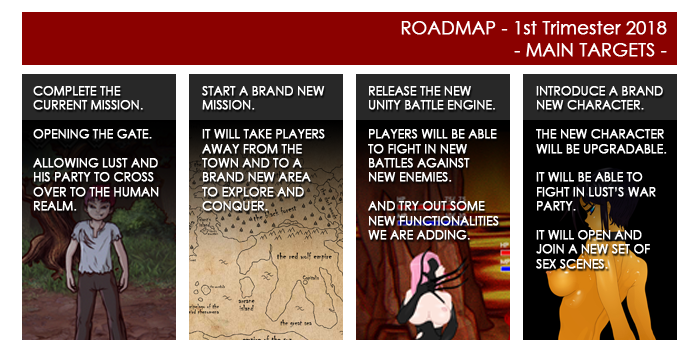 Hello everyone,
we just wanted to drop a few lines to let you know what has been going on with the development of our game The Legend of LUST. The game has been growing and we have been releasing a enw update every month.
With our latest release, which was less than a week ago and is available for free download on our website, we have completed the 1st of the 4 main objectives listed in the image above. As you can see, we have set 4 main targets for the 1st trimester of this year: complete the 1st mission in the Human Realm, start a brand new mission, release the new Unity battle system and release a new player controllable and upgradable character.
We are now working hard on completing the new battle system and in a month or so, we hope to release a pretty big update in terms of new functionalities and battle related features.
Last but not least, we would like to thank all of our Patrons for making the constant growth of the game a reality and for being so supportive of our work.
A good day to you all ;)
PGSS