Hello NG community!
The new The Legend of LUST Reaper update is out!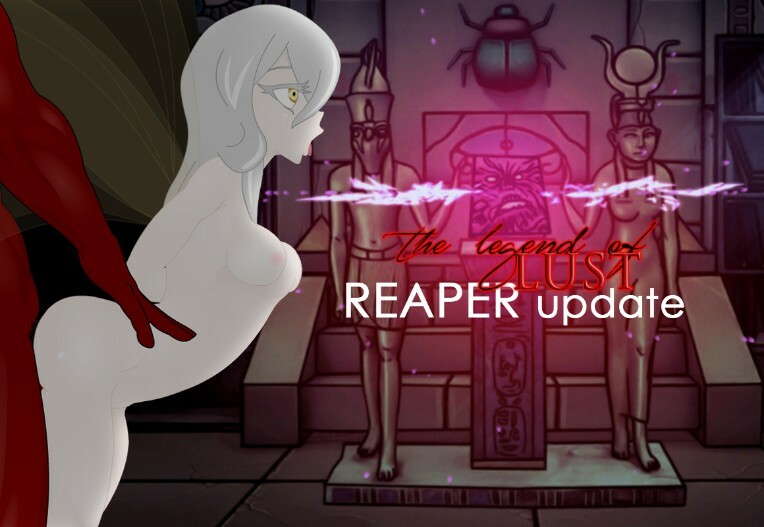 IMPORTANT NOTE: this build has a glitch on the Crafting window at the Monastery that may block progress. You can use the Enter Code to skip that part and continue playing. We are also about to release a new update which will have a fix for that. Sorry for the inconvenience.
For anyone that wishes to play this new update and check out the new content, links are below:
Download links below:
The Legend of LUST - MAC (WIP)
If this is your first time downloading the game, be sure to read the "RUN_GAME_INSTRUCTIONS.txt" file that comes with the game archive before launching the game.
Update's main features and new content:
Sex Scene: Fairy Queen part 2
Part 2 of the Fairy Queen scene comes with a bunch of new content.
It has a whole new intense anal scene featuring several animated sequences.
Varying in speed, depth of penetration and featuring responsive graphic effects such as massive bulging / body deformation.
We have also added a rich set of sound effects and the background music. There are a lot of different sound effects and different arrangements also because, as you might have seen in part 1, the game comes with the option of changing the fairy's expressions. Most notably the type of mouth. Clearly this created a problem for the audio as a moan would not reflect a closed mouth. This meant creating different sequences of sounds based not only on the action at hand but also on the selected facial expression. The game will periodically check at different stages of the animation (EG beginning of a specific sequence) which mouth the user has selected and load the specific set of sound effects to match.
Regarding expressions, we have designed a bunch of new ones for the anal sequences as well and which are controllable by the player by selecting out of the following options: Auto (our preset variations in expressions), Tight, Moan, Slut and Curious. These expression settings, will of course, also follow the same sound effect rules described above.
Additional new graphic include a couple of new eye color options and some other body features like a new ass design for the anal sequences inclusive of responsive deformation animations.
The 3rd and final part of the game will be focused on the introduction of detailed cumshot and cumswap (Hottie with Fairy) sequences. The conclusive upgrade to this scene will be released with the following game update.
A lot of work went into this scene, we tried to take into account your feedback as well as the poll results of course and we hope that you will like it.
Story Progression
This update is rich in story telling and dialogues. It comes with a lot of new info in regards to our enemy Baylor, to our future plans to end the undead threat and to some new revelations.
New Equipment Upgrade
We don't want to give away too much but, in this update you will be able to crafts a pretty sweet equipment upgrade that you will require to face what is coming next.
New Boost
In this update you will be able to acquire a permanent boost for all of your characters.
New Special Ability
We have also introduced a new Special Ability based on lust energy for Hottie that you will be able to learn while playing this update.
New Consumable Items
Additionally, you will also be able to acquire some new consumable items which include a brand new one that opens a new set of possibilities in battle. If employed correctly, this can be a game changer in regards to your battle prowess.
New Areas
In this update you will be finally able to access the bottom and top floors of the Library of Alexia as well as revisiting a familiar place that comes with some unexpected changes.
New Battle & New Enemy
You will also be introduced to a new and superior type of undead creature that you will have to face in a new battle.
Objectives
Since some players have expressed some confusion in regards to what needs to be done at certain stages of the game, we have decided to rework the objective system. We have increased the number of objectives and the amount of detail they contain. This update comes with 5 detailed objectives. Additionally, we did some work on the objective window itself. It now has a new script to manage it as well as a new text scrolling feature on mouse over. Lastly, we have added a new and clear objective to an earlier stage of the game. This objective will appear after acquiring the Onyx Caves and reading Micia's letter in order to assist players in finding Bunny in the Great Plains.
Content Redone in Non Flash format
Starting last month, we commenced working on switching to an entirely non flash system and some of the things we have redone or converted will be released with the new update.
The reworked content now available is the following:
- Sex Archive
The Sex Archive will see an upgrade as it has been redone in a downloadable archive and every scene it opens will be an actual self contained software in both PC and Mac formats.
This means that you can access the Sex Archive and its contents even when offline.
- Hell Map & World Map
Both maps have been reworked & all the scenes they open will now work under the new system described above.
- Full Body Views
The Full Body Views available in the Ego Chamber showing scenes presenting various characters are now all running on non flash systems.
Honorary Team Members
A very special thanks goes to our honorary team members:
Jayson Vazquez
Xboxone20
Many thanks for your kind support and generous contribution!
We hope that you will like this latest update and its new content. A big thank you to everyone supporting our work that allow this game to grow on a monthly basis.
Enjoy ;)